The Special Taskforce codenamed Operation Safe Haven has said it will partner with critical stakeholders in information management to fight crime in the society.
Commander of Operation Safe Haven, Maj. General C. C. Okonkwo made the disclosure at the Headquarters of the
Security Outfit in a parley with Officials and Members of Plateau Bloggers and Online Media Association when they paid him a familiarization visit.
Maj. Gen. Okonkwo underscored the critical roles being played by Online Reporters in peace building and informing the public of happenings around them.
He said security is everyone's business and urged Bloggers to always verify the authenticity of what the publish for public consumption.
He posited that their door is wide open for sharing intelligence information that will forestall attacks.
He said OPSH has zero tolerance for criminality assuring the group of their readiness and commitment to reduce crime to the barest minimum. He said OPSH will deal decisively with those who are out to cause breach of peace and security.
He urged the Group to ensure what they publish are objective, factual, the truth and aimed at promoting peace instead of inciting violence.
He frowned at how criminal elements are being protected and not being exposed by Members of the public act he said has been affecting their operations. He urged the public to furnish them with information that can lead to arrest and prosecution of criminal elements. He said OPSH has been able to arrest criminals and seek for the cooperation of the public to help fight crime.
He said crime has no religion, ethnic group or political party as it affects all.
He appreciated the group for the visit and for the commendation on their activities and said the synergy needed to restore peace, achieve a more safer and secured society will be sustained.
Earlier in his remarks, Leader of the delegation and Chairman of Plateau Bloggers and Online Media Association, Cmr. Friday Bako lauded the efforts and commitment of OPSH under the leadership of Maj. Gen. C. C. Okonkwo in restoring enduring peace and protecting lives and property against criminal elements.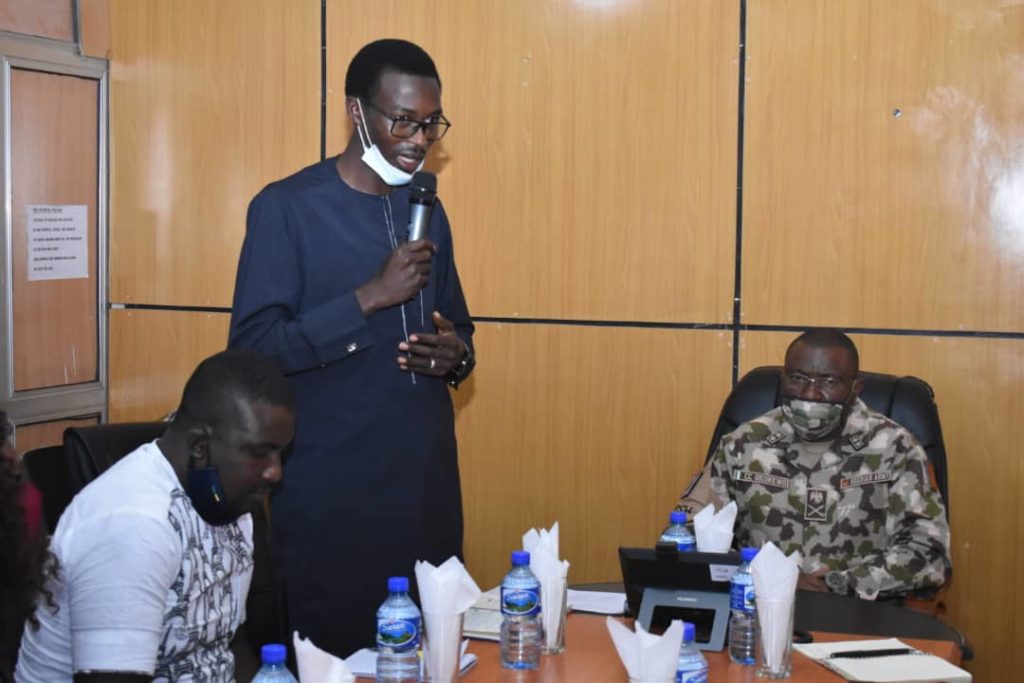 He spoke on the need for effective communication and synergy between the security and Online Reporters in promoting peaceful coexistence and fighting crime.
He spoke on the need for media influencers to always take humanity and patriotism into consideration when reporting.
He said as a group, they have discarded emotional and sensational reportage that can ignite violence by embracing professionalism and factual reportage. He said no development can be achieved in a chaotic society and said as Agents of Peace, they will continue to work to ensure unity, peace and progress are achieved.
He said as Bloggers they have seen the need to be logical and rational in their reportage having made love for humanity and true patriotism their watch words.
He called on OPSH to improve on their reaction to crisis situation, be more proactive and ensure that criminals are dealt with severely irrespective of their tribe, ethnicity and religion to serve as deterrent to others as well as tackle the issue of unprofessional conduct among some officers. The Bloggers promised to work in synergy with OPSH to achieve enduring peace by furnishing it with useful information that will assist them in fighting crime and restoring peace in Plateau State.
The meeting was well attended by the Chief of Staff OPSH Brig. General BY Sakaba, the Deputy Commander OPSH DCP Emma Ado, Operation Officer OPSH Col. O Famakinwa, Media Officer OPSH Maj. IA Shittu and other Principal Officers of the Security Apparatus.